Cardinal Mazarin
Cardinal Mazarin was the French premier throughout the negotiations leading up to the peace. I like to make a Mazarin cake on the anniversary of the Peace of Westphalia. Admittedly, I have no evidence that the cake was named after him, but how many other people named Mazarin have you ever heard of?
In fact, Mazarin is the namesake of a surprising number of modern items. There is the Mazarin cut diamond, which is a precursor to the modern brilliant cut; and the Mazarin desk, or "bureau Mazarin," an early kneehole desk. He was a renowned collector: a famous Japanese chest is known as the Mazarin chest because it is believed he owned it, and there is also a "Mazarin Venus." He was especially avid about collecting books; the Gutenberg Bible is sometimes known as the Mazarin Bible because it was in his collection. In fact, his personal library became the foundation of the French National Library (Bibliothèque Nationale). The library was housed in his enormous Parisian home until a few years ago. Mazarin left behind a collection of 18 notable diamonds that became the inspiration behind the Sherlock Holmes tale, "The Adventure of the Mazarin Stone."
Some of these items may have been mistakenly attributed to Mazarin. Other things with his name were simply inspired by him, such as the upscale brand of Mazarin socks, or Mazarin yachts, or the rock band named Mazarin. (There are actually two bands called "Mazarin"; there is some information on the more famous incarnation on last.fm.) A lovely shade of blue is known as "Mazarin blue" in his honour, and the butterfly named after the colour therefore also bears his name, the Mazarin Blue Butterfly. There is also a pattern labelled "Mazarin" that has been applied to parquet floors, hats, and rugs, but most notably to silverware; I have been unable to determine its provenance.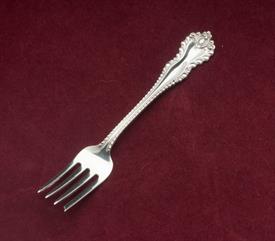 Mazarin, who was originally from Italy but became a naturalized French citizen, was credited with introducing the new Italian art form of opera into France; the very first opera performed there was "La Finta Pazza," from 1645. (There is a summary in French, the complete libretto in the original Italian, and a nice overview in English.) He also brought the Italian passion for stage machinery to France. He was a notorious gambler and helped popularize card games (instead of dice games) in his adoptive country.
The cardinal certainly made an impression on history. In addition to presiding over the Peace of Westphalia, which brought Alsace and Lorraine to France, he also directed France at the Peace of the Pyrenees with Spain. This not only brought France tangible possessions in Roussillon and Artois, but also included the marriage alliance of Louis XIV with Philip IV's daughter, ultimately leading to the dynastic union of France and Spain in the early 18th century.
Not bad for someone who is overshadowed by his predecessor, Cardinal Richelieu. I could be wrong that the Mazarin cake is related to him, but it is hard to believe that there is another Mazarin after whom it could be named. Oh well, next time I'll take up the Congress of Vienna. Then I can celebrate the peace with some Beef Stroganov.
This site uses Akismet to reduce spam. Learn how your comment data is processed.